New Year, New DO – Get Your Hair Ready for 2022!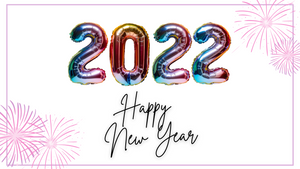 We've all been through a lot in the last couple of years. I keep telling friends that it feels like it was just Spring 2020, and now all of a sudden, we're on the brink of 2022.
Whether this reality is scary or exciting for you, one thing's for certain: the New Year is always the perfect time for something NEW.
Whether that's a resolution, a promise to yourself to become a new person, or whatever 2022 has in store for you, this year is a chance to try again, to try something new.
So why not?
Why not use 2022 as the perfect excuse to start living the life you want? Why not start now on taking care of yourself and becoming the QUEEN you know you are??
That all starts with choosing to prioritize YOU.  In 2022, we challenge you to become the person you want to be and to make a choice to start taking care of yourself!
Of course, taking care of yourself means taking care of your hair and we don't say that lightly. There's so much about the health of your hair that's tied to your overall health, too!
So to ring in the new year, we're giving you 4 quick tips for helping you achieve that New Year, New DO!
1) HYDRATE!
You've probably heard this more than anything else when it comes to your health, but it's so true. Your body, your skin, and especially your hair NEED water. Especially during these colder months, our hair loses hydration fast, so drinking lots of water is the most important thing you can do to keep your hair healthy!
2) Choose healthier options!
Our hair uses the nutrients from our body to grow, and having fuller, shinier, healthier hair starts with having a healthier diet. Our hair needs protein and iron to grow thicker and stronger, so be sure to fill your diet with protein and iron-rich foods, foods full of vitamins like vitamin C, and avoid sweets, sugars, and processed foods.
3) Switch Up Your Product
The products you use have a lingering effect on the health of your hair. Believe it or not, our hair takes on a lot of the ingredients of the products we use, so if you can avoid using products with lots of chemicals or additives, your hair will thank you! Instead, use products with natural ingredients that are paraben- and sulfate-free.
P.S. Mane Candy is vegan and free of sulfates, alcohol, parabens, and mineral oils, meaning it's just like candy for your hair, but healthy!
 4) Don't Wash Your Hair!
Okay, so you should probably wash your hair, but over-washing your hair can actually dry it out and damage it by stripping out all your hair's natural oils! Try to limit washing your hair to only a couple of times a week, but be sure to use natural products when you do!
These tips are just a start, but they're a great way to get 2022 started off with a bang.
What other ways are you creating a "NEW YOU" this year? Let us know!